10% of all profits go to support Ukrainian Armed Forces
An unusual way to see the city! Instead of a subway we get on an aerial tramway and then use a sprawling ferry network to explore the coastline of New York. We'll visit Roosevelt Island, Queens and Brooklyn and look at Manhattan only from across the East River and from the upper decks. And I tell you the photos are better from the outside than from the inside. This tour is $80 per hour + cost of public transportation (approximately $10 per person). Minimum is 4 hours ($320) and we can easily add more time to extend our exploration area.
See below our usual route. We can add or subtract stuff bearing in mind that the minimum price for this tour is $320 which gives us 4 hours. My favorite addition is to take a short subway (or bike) ride from the shore to East Williamsburg and Bushwick neighborhoods to see the part-industrial, part-hipster, part-old-school area famous for its street art and vintage stores.
Example Route
We can meet at your hotel or straight at 2nd avenue and 60th street
The first commuter aerial tramway in North America takes us to Roosevelt Island. We may spend 15 to 60 minutes or even longer here depending on the weather and time of year, the views are always breathtaking, the cherry gardens blossom in April, the parks on both ends are verdant in the summer
Ferry NYC is a young but very popular commuting option for New York, they service Roosevelt Island, too and will take us to Long Island city neighborhood of Queens. We will walk the shore to another ferry terminal admiring the views on the way and talking about the area's industrial past and residential present and future; this is where the famous Pepsi sign is
Next stop – Northern Williamsburg. This is the Hipster Mecca or it used to be, let's see what's happening now in one of the most sought after residential neighborhoods of New York City. From here we could also go to Bushwick to get the best coffee in Brooklyn and look at murals and graffiti. Also can't miss the fashionable Domino Park with the views of the Williamsburg Bridge
We will briefly traverse the Hasidic territory where people live by their own rules and take another ferry – to DUMBO.
This is the first area of Brooklyn people usually see, we may skip it if you already know it or explore this SoHo-on-the-other-side, do famous photos of Manhattan Bridge between red brick ex-warehouses, go up the Empire Stores for the view and walk through the new Emily Roebling Plaza and Brooklyn Bridge Park.
Next to DUMBO is Brooklyn Heights, the Greenwich Village of Brooklyn but quieter. This is the very first historic district in NYC that earned that designation and we will see why.
From here we may board a ferry or a subway to Manhattan or we could walk the Brooklyn Bridge over, your choice; or we could extend the visit to Brooklyn and go further to Red Hook and Industry City or towards Grand Army Plaza and Prospect Park.
The 4 hour Air Tram and Ferry tour price is $320.
Transportation is approximately $11 extra per person. Each 30 minutes extra is $40.
Capacity – up to 10 guests.
Request available date and time that's convenient for you in the calendar below.
Interactive approximate route map
Clickable. Depending on the program we agree on the parts of this route map may be expanded or cut.
Other Off-The-Beaten-Path tours to consider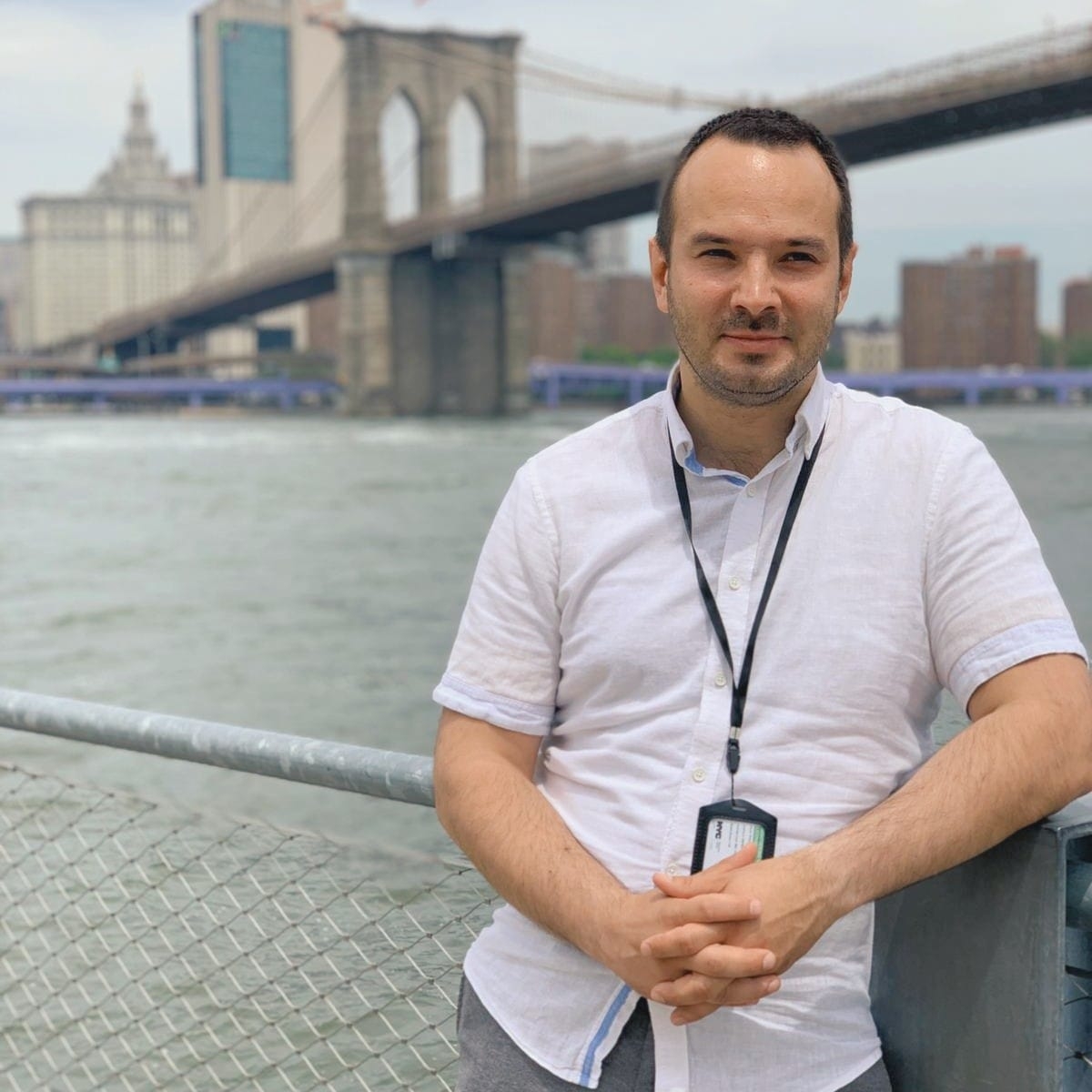 Slava Shpigel
Your guide
Licensed New York Guide, leading tours since 2012.
I have never appreciated history before I moved to New York in 2010. Maybe it was an immigrant thing – to study up on the new city and country – but it quickly fascinated me. Now 4 shelves of USA and New York history books and 10 years guiding experience behind me I more than ever want to share the stories I learned.
Any questions or comments?