10% of all profits go to support Ukrainian Armed Forces
Highly packed tour of two neighborhoods. SoHo and TriBeCa have a lot of similarities in their history but look worlds apart even though they share a long border. Both came through the whole conversion process from agrarian and residential to industrial in the first 150 years and to artistic to commercial (and super expensive residential) in the next 60 years.
We will see the famous cast iron architecture and 2 of the oldest examples of it; explore the urban renewal theories that nearly destroyed the area; in the best New York traditions see both the oldest and the newest buildings of TriBeCa 200+ years but only a couple blocks apart; take a photo with the ghostbusters; find out where the internet comes from in New York; gawk at the smallest museum in the city inside a freight elevator; see where Abraham Lincoln bought jewelry for Mary Todd and where she bought china for the White House; learn about the first artistic coop and how this whole process of the SoHo Effect got its start.
We will begin near World Trade Center and enter TriBeCa from the south and finish at the northern SoHo border at Houston street. SOuth of HOuston, get it? We may reverse course if it's more convenient for your day plans. The agenda is packed so we may have to hurry up to get everything in 2 hours or go a little overtime for no extra cost. Or we can go a lot overtime for $25 per each half an hour.
This private tour takes about 2 hours and costs $250. Use calendar below to look for an available time and request a convenient slot. I will get back to you shortly with confirmation. Or just contact me.
Request a private tour below
---
Who you gonna call? And where will the Ghostbusters be coming from?
How can this small skybridge be a part of 35 mln dollars apartment?
Is TriBeCa really a TRIangle BElow CAnal street?
Cast-iron buildings are like skyscrapers grandparents, did they also have elevators?
Where are the Queen and King of Greene Street?
Jurgis Mačiūnas was a hero of American artists, his dream was to create a giant coop network, did it work?
The Internet has to come from somewhere, right? What's the closest thing to a power station for the WWW?
What would YOU call a museum of object journalism in New York?
If there are basically no back alleys in Manhattan where do all the cop shows find spots to film?
Interactive route map
Clickable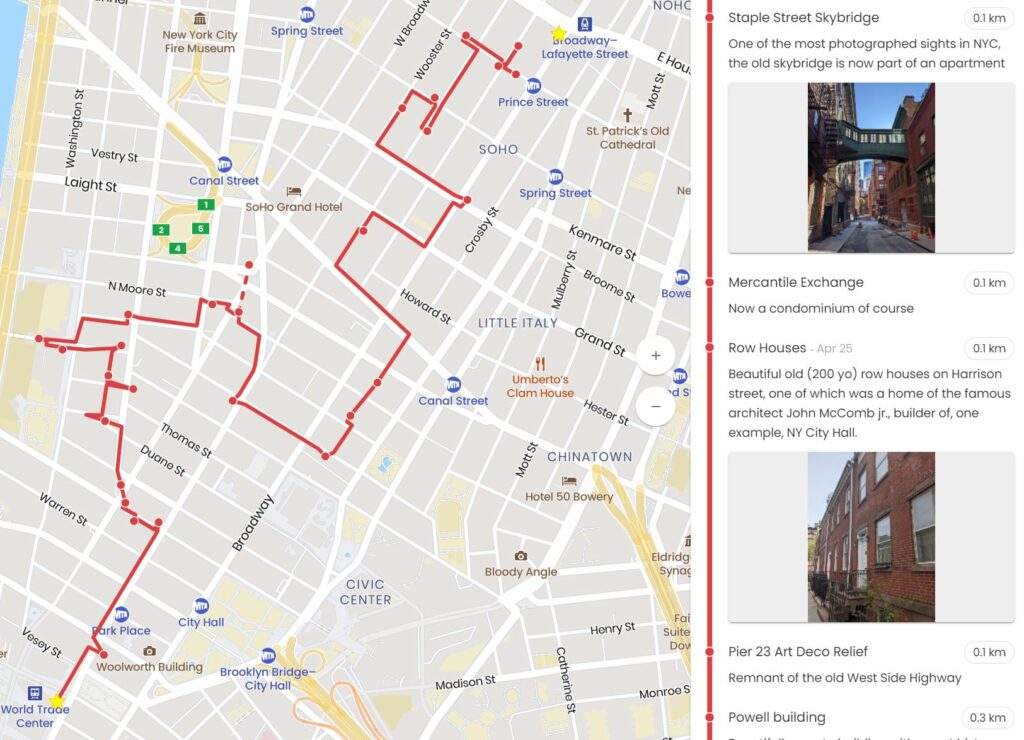 Did you know?
Cast-iron buildings
Hundreds of them in SoHo?
Most of SoHo is even included in a Cast-Iron Historic District. Pre-skyscrapers these iron framed structures were the most efficient for commercial purposes
The Jenga Tower
There is a giant glass Jenga in TriBeCa?
A residential tower officially named 56 Leonard is a 57 story skyscraper finished in 2017. Upper floors are made of kind of like glass bricks so the whole thing looks like a Jenga game.
Mmuseumm
The whole museum in a freight elevator?
Alex Kalman and Safdie brothers founded this 36 sq feet museum in 2012. At one point it even got a "second wing" and an espresso machine, all gone during covid.
Other walking tours to consider
Any questions or comments?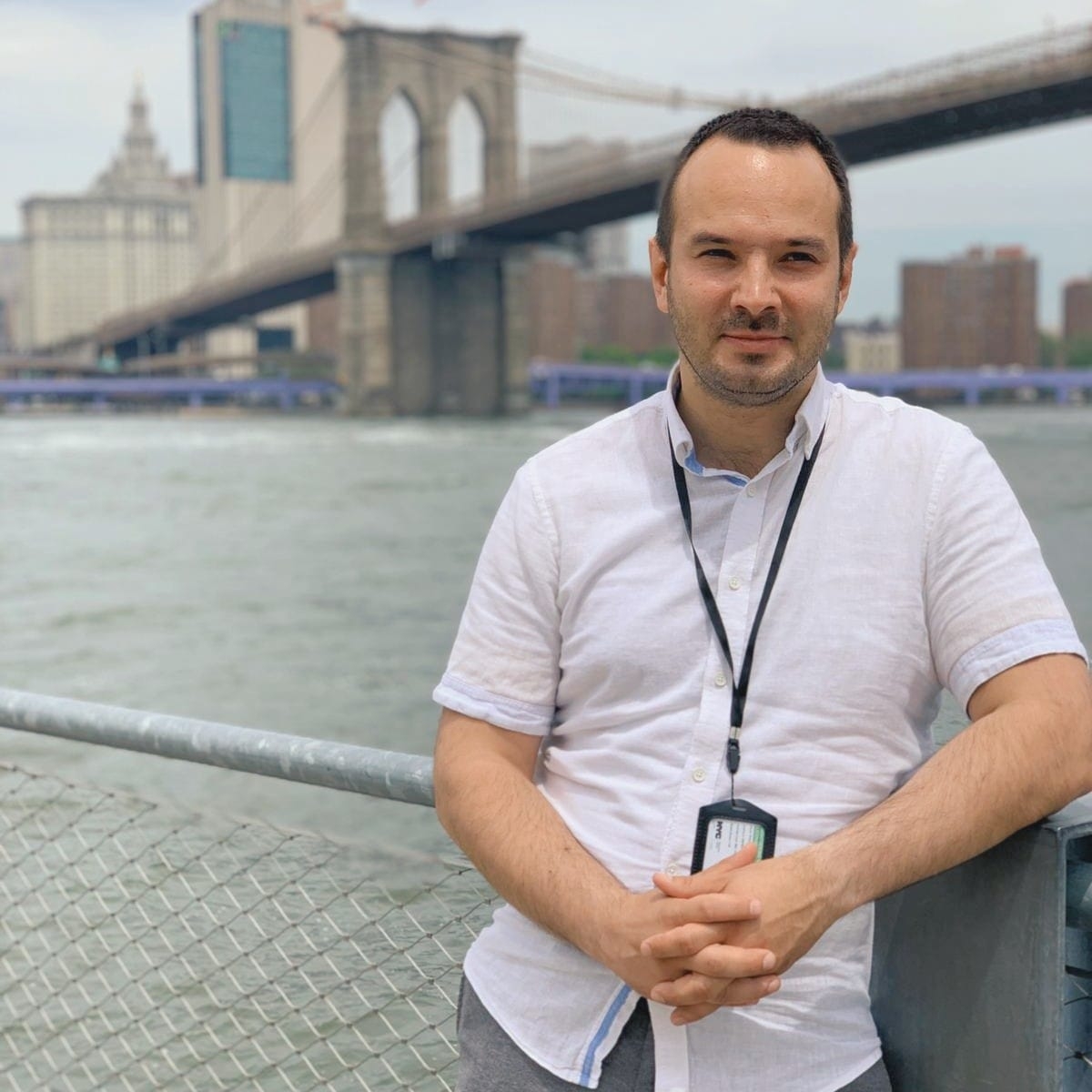 Slava Shpigel
Your guide
Licensed New York Guide, leading tours since 2012.
I have never appreciated history before I moved to New York in 2010. Maybe it was an immigrant thing – to study up on the new city and country – but it quickly fascinated me. Now 4 shelves of USA and New York history books and 10 years guiding experience behind me I more than ever want to share the stories I learned.